Enefit Green practices rescuing a person from a wind turbine together with rescuers and partners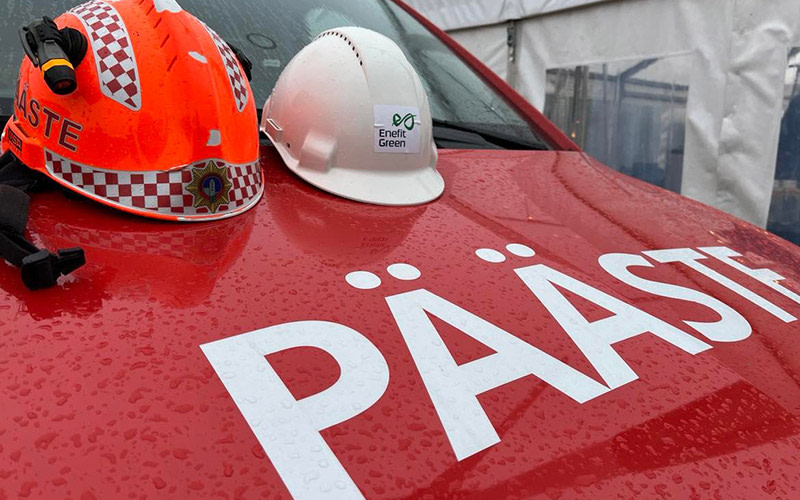 On Wednesday, 5 October, Enefit Green practices solving an accident in a wind turbine together with the Estonian Rescue Board and other partners.
According to the scenario of the exercise, maintenance workers will need life-saving help in a wind turbine of Aseriaru Wind Farm, Viru-Nigula Parish. Both the Rescue Board and Enefit Green's own team will respond to the event.
Innar Kaasik, member of the management board responsible for production at Enefit Green, says that accidents in wind turbines are rare, but solving them requires good preparation. "This is a first ever such training in Estonia. We do everything we can to prevent accidents. At the same time, we must be ready to act and support rescuers in every way so that assistance is not delayed. This requires a good flow of information and cooperation, as well as readiness in the form of tools, guidance and ensuring access," Kaasik said.
"Rescue work in a wind turbine is complicated by the fact that it is a very tall building and you have to know precisely how to move inside this machine. So far, we have not had to save anyone from a wind turbine, but considering that more and more wind farms are being added, the probability of accidents is increasing. The main purpose of the exercise is to be ready for such events and to identify the bottlenecks that can hinder rescue operations," Rescue Board's rescue expert Indrek Agar explained.
According to Terje Talv, CEO at Estonian Wind Power Association, Estonia is going to develop into a wind energy country over the next decade. "With the addition of new wind farms on land and sea, we will be producing an increasingly large share of consumption in an environmentally friendly and affordable way. More wind farms mean that we need to be prepared to respond to potential incidents in the maintenance of wind turbines and to other accidents. "Good cooperation with the rescuers, ambulance and police as well as testing readiness gives confidence for the future with many more wind turbines, but people's safety being still the most important thing," Talv added.
Rescuers from Jõhvi and the rope rescue specialists from the Estonian Disaster Relief Team's (EDRT) urban search and rescue (EST-USAR) will participate in the exercise.
The exercise will take place in the Aseriaru Wind Farm area and will not interfere with traffic on public roads.
Aseriaru Wind Farm has been producing electricity since 2012. The farm has eight wind turbines with a total capacity of 24 megawatts. The nacelles of those wind turbines are located at a height of 90 metres.