Enefit Green's renewable electricity production increased in June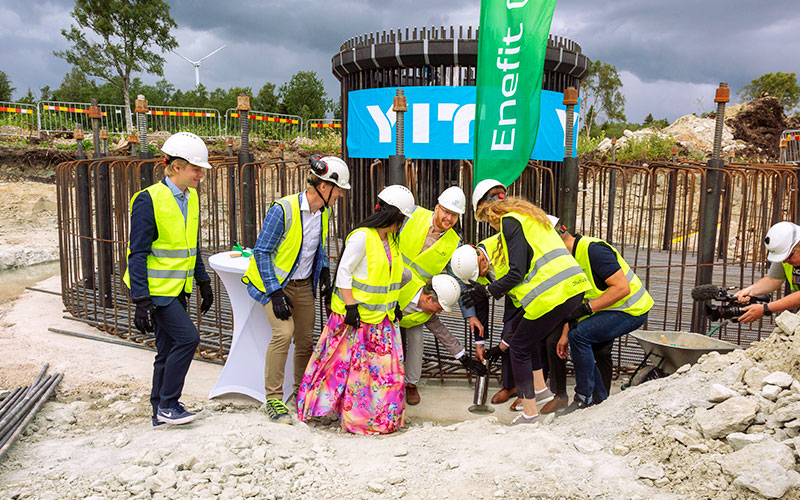 Enefit Green produced 63 gigawatt-hours of electricity this June, being nearly a fifth more than in the same period last year. This would cover the average June consumption of nearly 360,000 homes.
The company produced nearly 63 gigawatt-hours of electricity, of which nearly 43 gigawatt-hours were delivered to consumers from wind farms. Heat production in June reached 49 gigawatt-hours, being 8% more than last year.
According to Innar Kaasik, Member of the Management Board and Head of Production at Enefit Green, June was a good month for solar energy production. "Compared to last June, we increased both our wind and solar electricity output. Wind energy output was a fifth higher, while our solar parks in Estonia and Poland produced 15% more than last June," Kaasik said.
According to Kaasik, summer means maintenance for wind farms. "We are currently performing regular maintenance to ensure even higher reliability in autumn when the weather is windier, in order to make the most of it," Kaasik explained.
Enefit Green's production will start to grow strongly next year when new wind farms start operating. "Enefit Green has four wind farms and three solar parks under construction at the moment. Of these, our solar park in Zambrow, Poland, will be the first to start generating green electricity already this year. Green electricity from the remaining wind and solar parks will gradually be supplied to the market from next year on. Each new wind farm and solar park brings more affordable electricity to the market, helps to ensure energy security and reduce dependence on natural gas," Kaasik said.
At the end of June, the cornerstone was placed for Enefit Green's wind farm in Tolpanvaara, northern Finland. At the beginning of July, the cornerstone was laid for the wind farm in Purtse, Ida-Virumaa. Construction is actively underway in Lithuania as well with Enefit Green building wind farms near the towns of Akmene and Šilale. Green electricity from the Akmene (75 megawatts), Tolpanvaara (72 megawatts), Šilale II (43 megawatts) and Purtse (21 megawatts) wind farms will be supplied to the market step by step next year. In addition to the output from solar parks in Debnik (6 megawatts) and Purtse (32 megawatts).
See also Enefit Green's stock announcement »
Enefit Green's June electricity output in gigawatt-hours
| | June 2022 | June 2021 | Change, % |
| --- | --- | --- | --- |
| Wind | 43.0 | 35.1 | 22.4% |
| CHP | 15.0 | 14.2 | 6.0% |
| Solar | 4.8 | 4.1 | 15.5% |
| Other | 0.1 | 0.1 | 33.1% |
| Total | 62.8 | 53.5 | 17.5% |
| Thermal energy, GWh | 48.6 | 45.1 | 8% |
About Enefit Green
The company owns a total of 22 wind farms, 38 solar power plants, four CHP plants, a pellet plant and a hydroelectric power plant in Estonia, Latvia, Lithuania and Poland.
In 2021, Enefit Green produced nearly 1,200 gigawatt-hours of electricity and 620 gigawatt-hours of thermal energy.
Enefit Green is the largest producer of wind energy in the Baltic States that aims to quadruple its production capacity to 1,900 megawatts by 2026.
The company has four wind farms under construction with a total capacity of over 200 megawatts. Two of them in Lithuania, one in Finland and one in Estonia. The total volume of these investments is EUR 250 million.
Three solar parks are under construction – two in Poland and one in Estonia. The capacity of these parks is approximately 45 megawatts, and the total amount of investments is nearly 30 million.
Enefit Green's shares are listed on the Nasdaq Tallinn stock exchange with the company having more than 60,000 investors.