Windy March increased Enefit Green's renewable electricity production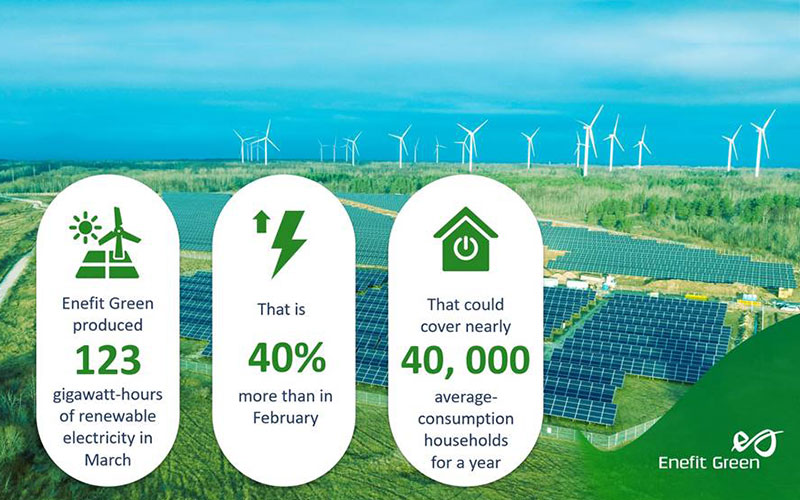 Eesti Energia's renewable energy company Enefit Green produced 123 gigawatt-hours of renewable electricity in March, which is 40% more than in February.
The electricity produced in March would be enough to cover the consumption of nearly 40,000 average households for a year.
Aavo Kärmas, Chairman of the Management Board of Enefit Green, said that they can be satisfied with the March production output. "The crisp cold that prevailed at the beginning of the year subsided in March, and the weather was windier. Thanks to this and the good reliability of wind turbines, we were able to increase our production, compared to February," Kärmas commented.
Most of the output came from wind farms in Estonia and Lithuania, generating 103,6 gigawatt-hours of electricity. The rest came from the company's cogeneration plants, solar parks, the Ruhnu renewable energy solution, and Keila-Joa Hydroelectric Power Plant.
Enefit Green's heat production in the Iru and Paide cogeneration plants in Estonia and the Valka and Broceni cogeneration plants in Latvia amounted to 59 gigawatt-hours in March, the same volume as last month.
Enefit Green is a renewable energy company part of the group of Eesti Energia, owning 20 wind farms in Estonia and Lithuania, four cogeneration plants in Iru, Paide, Valka and Broceni, a hydroelectric power plant in Keila-Joa, 36 solar power plants in Estonia and Poland, and a pellet plant in Latvia. The company is one of the largest renewable energy producers in the region and the largest producer of wind energy.