Enefit Green's electricity production in 2019 was record high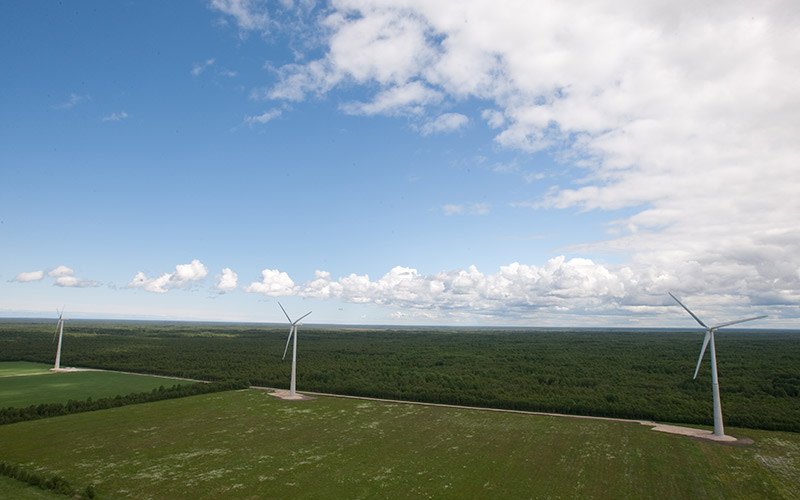 Eesti Energia's renewable energy company Enefit Green generated a record amount of 1.2 terawatt-hours of electricity in 2019, that is two and a half times more than the year before. The production of Enefit Green accounted for more than one fifth of the total electricity production of Eesti Energia Group.
1.2 TWh of electricity is enough for a year for about 400,000 households with average consumption. About 85 percent of the electricity produced by Enefit Green came from its wind farms in Estonia and Lithuania, the annual production of which exceeded one terawatt hour. Key factors for the great wind power production were the improved reliability of wind farms and more favourable wind conditions.
"This excellent result makes us happy. All the more so, because we have made an effort to ensure the reliability of our wind farms and we are working hard to maintain it on a daily basis," commented Aavo Kärmas, Chairman of the Management Board of Enefit Green.
"In addition to our existing wind farms, we are actively developing new wind farm projects. It is clear that the biggest growth for Enefit Green will come from wind energy in the near future, and we have development projects for this field in Estonia as well as in Lithuania and Finland, for example," Kärmas added.
Enefit Green sees the greatest potential for the coming years for the development of renewable energy primarily in Lithuania. At the moment, there are three wind farm projects with a total capacity of 350 megawatts in their Lithuanian market development portfolio.
In Estonia, Enefit Green and Eesti Energia are currently developing a total of four wind farm projects - two offshore wind farms in Northwest Estonia and the Gulf of Riga; a wind farm consisting of up to 30 wind turbines in Risti, Läänemaa; and a park of up to 10 wind turbines in Saarde Parish, Pärnumaa. In addition, Eesti Energia wishes to continue building the Tootsi Wind Farm, if they succeed in acquiring the land in the auction.
In the field of solar energy, the year 2019 was significant in terms of Enefit Green's expansion to the Polish market, where the company acquired 19 solar farm projects in the middle of the year. As a result, their solar energy portfolio grew to 26 megawatts. By the end of the year, Enefit Green's solar farms in Estonia and Poland had generated 8.6 gigawatt-hours of electricity, enough to cover the annual electricity needs of about 3,000 households with average consumption. For 2020, Enefit Green has set the goal of further increasing its solar power volumes.
In addition to wind farms and solar power plants, Enefit Green's record production of 1.2 TWh for the year includes the production volumes of their Iru, Paide, Valka and Brocen power plants, the Keila-Joa hydroelectric power plant and the Ruhnu renewable energy solution, generating a total of 174 GWh of electricity.
The company's heat output from Iru, Paide and Valka stations in 2019 reached 447 GWh, which is 45 percent less than in 2018. The reason behind it is that the weather was much warmer than in the previous year.
"2020 will be an exciting year as we hope to continue to grow Enefit Green's production portfolio. In addition, we will focus on even smarter operation of our existing assets. We wish to raise the efficiency of all our production units, increase production, prevent downtime and respond better to failures," Kärmas commented on the focus for the coming year.
The growth of Enefit Green's renewable energy production is essential for achieving the Eesti Energia's goal of producing 45 percent of electricity from renewable and alternative sources in 2023.
Enefit Green is a renewable energy company belonging to the Eesti Energia Group, having 20 wind farms in Estonia and Lithuania, four cogeneration stations in Iru, Paide, Valka and Brocen, a hydroelectric power plant in Keila-Joa, 36 solar power plants in Estonia and Poland, and a pellet plant in Latvia. The company is one of the largest producers of renewable energy in the region.