Support for wind energy remains high in Estonia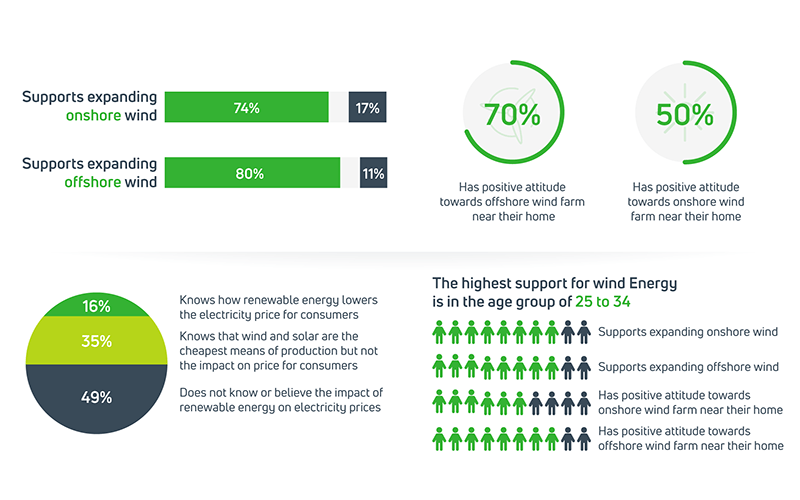 The results of the November survey show that Estonian people support a wider introduction of wind energy. The largest support is for offshore wind farms.
The study commissioned by Enefit Green from EMOR shows that 80% of Estonians are in favour of building offshore wind farms and 74% support the wider use of onshore wind energy. The biggest supporters of wind energy are young people aged 15-24 with as much as 88% being in favour of offshore wind farms.
According to Lauri Ulm, Head of Wind Energy at Enefit Green, the research results show that steps to develop wind energy more quickly are important for the whole society. "General large support for wind energy gives both municipalities and the state the confidence to make decisions that promote greater production of renewable energy in Estonia. New wind farms will start operating in Estonia already next year. This can further increase the overall support," Ulm described.
The attitude towards offshore wind farms is also more favourable in the case of new local power plants. Half of the respondents would have a very or rather positive attitude to an onshore wind farm built nearby, and 69% of the respondents would have a positive or very positive attitude to an offshore wind farm close to their home.
One question of the survey concerned people's awareness of the relationship between renewable energy and electricity prices. According to the respondents, only one person in six knows how renewable energy shapes the prices on the electricity exchange. A third of people know that solar and wind energy are the cheapest, but are not aware of their impact on consumers.
According to Ulm, both developers and authorities must do a good job of explaining the connection between cheap renewable energy and exchange prices. "Wind and solar are the cheapest of all forms of electricity production, and the more electricity generated this way is on the market, the cheaper the rates for consumers. A broader explanation of the connection would probably help to further increase support for wind energy," Ulm said.
The survey was conducted by EMOR this November. It was a pan-Estonian omnibus survey addressing approximately 1,100 residents aged 15-84.