Enefit Green will start constructing Purtse Wind Farm and build a solar park in Poland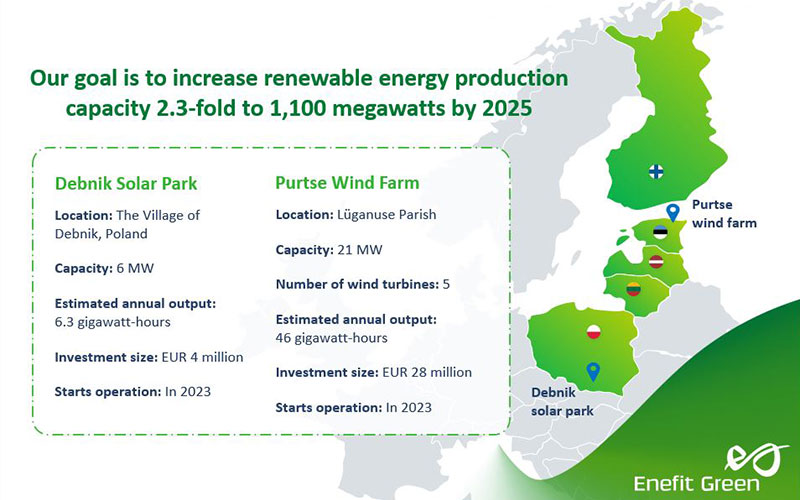 On Thursday, 27 January, renewable energy producer Enefit Green made two investment decisions. The company starts building a wind farm in Purtse, Ida-Virumaa, and a solar park in Debnik, Poland.
Purtse Wind Farm with its five wind turbines will be operational next year and is going to generate about 46 gigawatt-hours of electricity per year. Such an amount of green energy can cover the annual electricity consumption of the entire Lüganuse Parish or, for example, the island of Hiiumaa. The production capacity of the farm is 21 megawatts.
According to Aavo Kärmas, Chairman of the Management Board of Enefit Green, the construction of a new wind farm in Estonia is good news for the entire field of renewable energy. "Purtse Wind Farm is the first larger wind farm to be built in Estonia over several years and green electricity from the farm will reach Estonian homes already next year. This shows that the production capacity of cheaper and environmentally sustainable energy can be added to the market fast if the permitting process is completed. Enefit Green has several ongoing projects in Estonia that could enter the construction phase fast with a supporting societal and economic environment," Kärmas said.
The production capacity of Debnik Solar Park will be 6 megawatts and the Park will have a prognosed annual output of 6.3 gigawatt-hours. The company currently owns 19 solar parks in Poland, generating a total of approx. 19 gigawatt-hours of electricity per year.
According to Kärmas, the development of solar energy in Poland is facilitated by a more extensive opportunity to enter into long-term power purchase agreements and participate in auctions. "As a versatile producer of renewable energy, we see great potential in Poland. The demand for cheap green electricity is exceedingly high in Poland, and there are many large-scale consumers for whom long-term power purchase agreements provide a strong competitive advantage," he explained.
Enefit Green is investing over 28 million euros in the construction of Purtse Wind Farm and slightly over four million euros in Debnik Solar Park.
Enefit Green acquired the development project for Purtse Wind Farm last March. In preparation for the investment decision, the company carried out procurement for the construction of the wind farm and the manufacture of wind turbines. Contracts with these partners will be signed soon.
Enefit Green acquired the project for Debnik Solar Park at the end of 2020.
These investment decisions are part of Enefit Green's growth plan to double the company's renewable energy output by 2025.
Key facts about Enefit Green
Enefit Green is a versatile renewable energy producer that aims to increase its production capacity 2.3-fold to 1,100 megawatts by 2025.
The company owns a total of 22 wind farms, 38 solar power plants, four CHP plants, a pellet plant and a hydroelectric power plant in Estonia, Latvia, Lithuania, and Poland.
The current electricity generation capacity of the company is 456 megawatts, and its thermal power generation capacity is 81 megawatts.
In 2021, Enefit Green produced 1,193 GWh of electricity and 618 GWh of thermal power.
Enefit Green has three wind farms in construction with a total capacity of 190 megawatts – two in Lithuania and one in Finland. The total volume of these investments is nearly 228 million euros.
The company also has one solar park of 8.8 megawatts in construction in Poland. The volume of this investment is 5.8 million euros.