Enefit Green starts cooperation with Latvia's largest private forest owner to build wind farms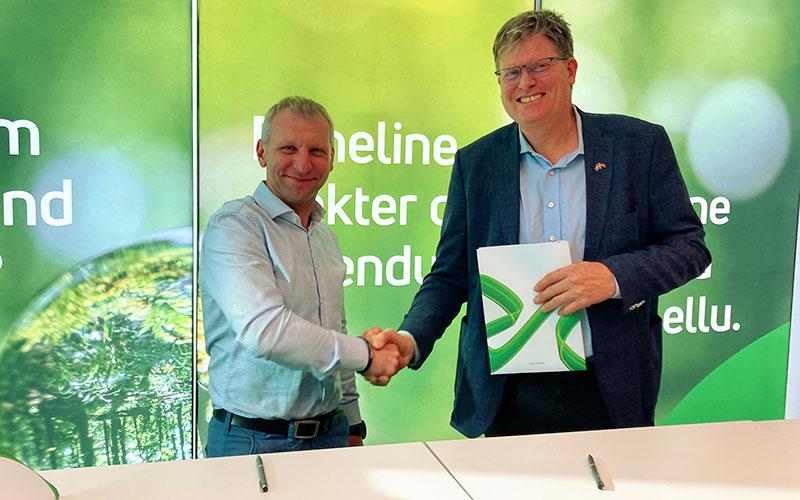 Enefit Green's subsidiary started cooperation with Latvia's largest private forest owner Södra group Latvia, to develop two possible wind farms in the east of the country.
Under the agreements this week, Enefit Green will have the right to use the land owned by Södra for the development of wind energy. Two wind farms can be built on these lands in eastern Latvia.
Chairman of Enefit Green Aavo Kärmas said that Latvia, like other neighboring countries, needs to increase its production of renewable energy. "Environmentally sustainable wind energy is more affordable and supports both climate goals and energy security in Latvia. Starting the development of wind farms in Latvia is an important part of Enefit Green's long-term growth plan, and we hope to cooperate with the Latvian large forest owner in the future as well," said Kärmas.
According to him, the long-term right to use the land is the first preparatory step in the construction of the wind farms. "Next, we will start communicating with the relevant authorities and local governments, followed by the environmental impact assessment. We anticipate that the coordination and research stage for the developments may take a minimum of three years, but the period could be affected by the Latvian government's decision to simplify the procedural rules for planning renewable energy development," Kärmas added.
Board Member of Södra group Latvia Lars-Georg Adolf Hedlund: "Södra is glad of the cooperation with the reliable wind energy developer Enefit Green. We hope to see their projects successful, and we are happy as a company to participate in creating new opportunities for green electricity production in the region. An added wind farm is an important step towards our energy independence and climate goals".
Södra group is one of the largest forest owners in Latvia, managing a total of 127 266 ha of land, of which more than 100 084 ha are forests.
Key facts about Enefit Green
Enefit Green is one of the leading diversified renewable energy producers in the Baltic Sea region.
In Latvia, the company currently operates two CHP plants which produce heat for the city of Valka and industry, the generated electricity to the Latvian power network, the pellets factory in Brocēni.
Enefit Green is developing several projects in Latvia in wind and solar segments to increase production of environmentally sustainable energy for customers.
In 2021, Enefit Green produced 1,193 GWh of electricity and 618 GWh of thermal power.
Enefit Green has four wind farms in construction with a total capacity over 200 megawatts – two in Lithuania, one in Finland and one in Estonia. The total volume of these investments is nearly 260 million euros.
The company also has two solar parks of nearly 15 megawatts in construction in Poland. The volume of this investment is nearly 10 million euros.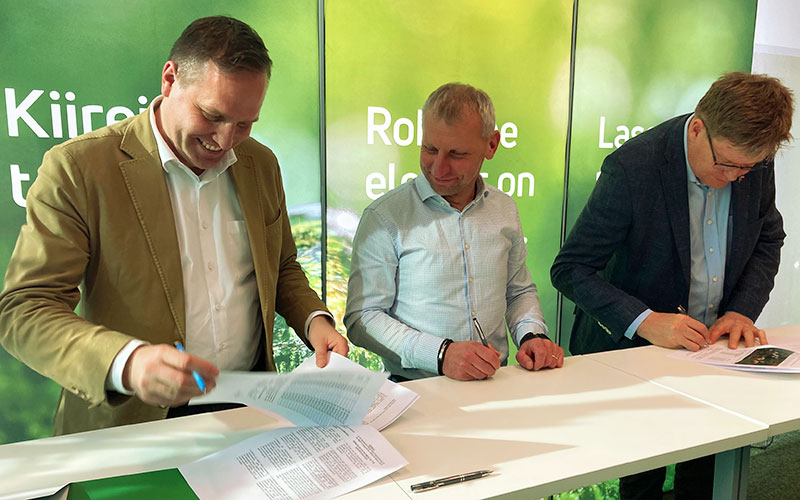 In the photos: the contracts were signed by Enefit Greens subsidiary Enercom SIA Board Members Juris Antužs and Linas Sabaliauskas and Board Member of Södra group Latvia Lars-Georg Adolf Hedlund.