Enefit Green's largest new wind farm will start production in April next year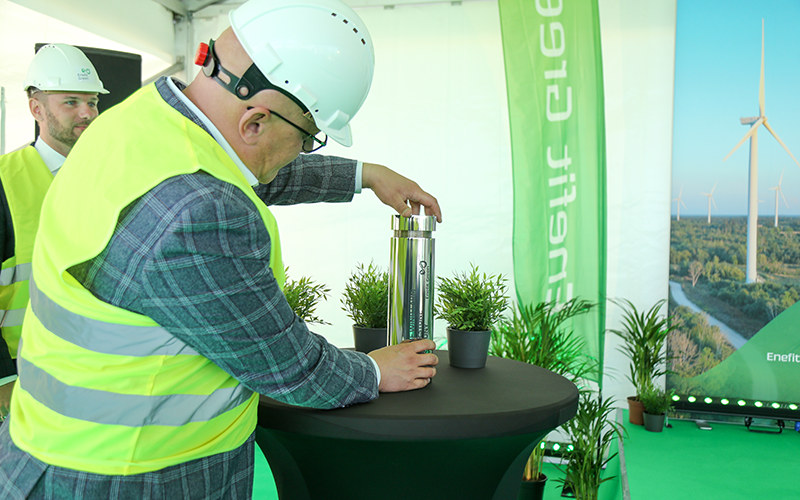 Enefit Green's 75MW Akmene wind farm in Lithuania is being built at full speed and is scheduled to start production in April 2023. At the cornerstone ceremony on 8th of September two turbines of the new wind farm were named after Enefit's customers.
Chairman of the Supervisory Board of Enefit Green Hando Sutter: "Increasing energy production from wind will ease the energy shortages and result in less costly electricity for the consumers. In upcoming winter, it is crucial to have reserves and contingency plans for securing energy supply, however the most impactful solution to energy crisis is adding green energy and upholding business environment that motivates green investments," he said.
According to CEO of Enefit Green Aavo Kärmas the company is actively taking part in Lithuanian energy market both as producer and developer. "We are moving fast to build new wind farms and giving our customers a chance to secure their energy prices with long term power purchase agreements. These agreements make building wind farms possible and are mutually beneficial. They offer guaranteed income for the developer and provide insurance for clients against volatile energy costs".
General Manager of Enefit UAB Vytenis Koryzna said Enefit has 100 000 clients in Lithuania who want to consume locally produced green energy. "To emphasize the importance of clients and people's demand for green energy, we named two turbines in Akmene wind farm after our customers. One of the turbines will be named after our first business customer to sign a long-term power purchase agreement – Roquette Amilina. The other will be called after Povilas Petrauskas who is our 100 000th client in Lithuania," he said.
The 75 MW Akmene wind farm is one of two Enefit Green's wind farms currently built in Lithuania. It's 14 wind turbines will annualy produce an estimated 258 gigawatt-hours of green electricity which covers the consumption of 80 000 average households.
The construction of Akmene wind farm started in February of 2022, the electricity production starts is April next year and the project shall be completed by the third quarter of 2023.
About Enefit Green
Enefit Green is the largest producer of wind energy in the Baltic States that aims to quadruple its production capacity to 1 900 megawatts by 2026.
Enefit Green's shares are listed on the Nasdaq Tallinn stock exchange and the company has more than 60 000 investors.
Enefit Green owns a total of 22 wind farms, 38 solar power plants, four CHP plants, a pellet plant and a hydroelectric power plant in Estonia, Latvia, Lithuania, and Poland.
Enefit Green currently owns five wind parks in Lithuania, total capacity 139 megawatts.
In 2021, Enefit Green produced nearly 1,200 gigawatt-hours of electricity and 620 gigawatt-hours of thermal energy.
The company has four wind farms under construction with a total capacity of over 200 megawatts. Two of them in Lithuania, one in Finland and one in Estonia. The total volume of these investments is 250 million euros.
There are three solar parks under construction, two in Poland and one in Estonia. The capacity of these parks is approximately 45 megawatts, and the total amount of investments is nearly 30 million.