Šilale II – the first of Enefit Green's new wind farms will start production in four months
Enefit Green's Šilale II wind farm will start producing green electricity in the next four months. Today a cornerstone is laid on the farm's last foundation and turbine assembly is about to begin.
According to the chairman of Enefit Green's management board Aavo Kärmas Šilale II will be first on company's new wind farms to start producing electricity. "Building new wind and solar parks is the main long-term solution to the current energy crisis. Enefit Green is a long-time renewable energy producer in Lithuania and is currently building two new wind farms there with one more investment decision in preparation. It is critically important to add renewable energy to the market fast and Šilale II is on track to start production in the end of this year," Kärmas said.
The construction of Šilale II wind farm started last September. Currently 11 of the 12 turbine foundations have been laid, the crane pads are ready and two cranes to build up the turbines have been brought to the site. The towers and blades will start arriving to the site and the turbine assembly is about to start.
Šilale II wind farm is planned to start producing electricity in November. After that there will be a few months of testing and fine tuning the system. The project will be fully completed by February 2023.
The wind farm will provide 160 gigawatt-hours of green electricity each year. Each of its 12 turbines is 200meters high and production capacity of 3,6 megawatts.
Enefit Green is currently building four new wind farms in Finland, Estonia and two in Lithuania. The second Lithuanian renewable energy power station – 75-megawatt Akmene wind farm is planned to be completed by the end of 2023.
About Enefit Green
Enefit Green is the largest producer of wind energy in the Baltic States that aims to quadruple its production capacity to 1 900 megawatts by 2026.
The company owns a total of 22 wind farms, 38 solar power plants, four CHP plants, a pellet plant and a hydroelectric power plant in Estonia, Latvia, Lithuania, and Poland.
Enefit Green owns five wind parks in Lithuania, total capacity 139 megawatts.
In 2021, Enefit Green produced nearly 1,200 gigawatt-hours of electricity and 620 gigawatt-hours of thermal energy.
The company has four wind farms under construction with a total capacity of over 200 megawatts. Two of them in Lithuania, one in Finland and one in Estonia. The total volume of these investments is 250 million euros.
There are three solar parks under construction, two in Poland and one in Estonia. The capacity of these parks is approximately 45 megawatts, and the total amount of investments is nearly 30 million.
Enefit Green's shares are listed on the Nasdaq Tallinn stock exchange and the company has more than 60 000 investors.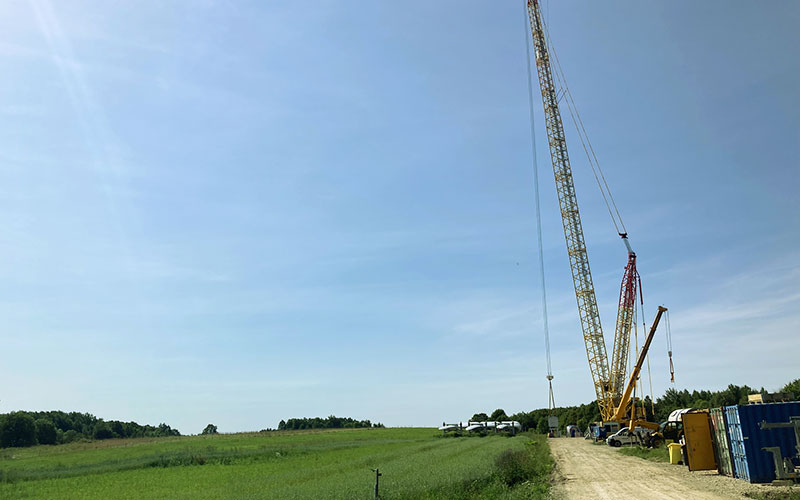 Photo from Šilale II construction site.