Enefit Green's unique Estonia solar park started electricity production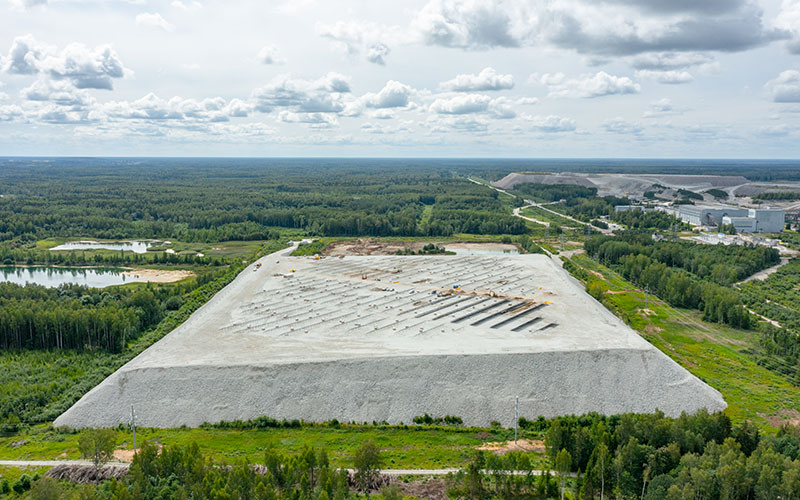 The Estonia solar park, located on the industrial site of the Estonia mine in Ida-Viru County, has started producing electricity. The solar farm with a capacity of nearly 3 megawatts is the first in Estonia to be located on a platform structure made of gangue.
According to Elise Johanna Lill, Renewable Energy Project Manager at Enefit Green, production at the solar farm started last Saturday. 'The construction of the solar park has progressed faster than expected,' Lill notes. 'It took six months from the start of construction to first production, which is a good result for a farm of such a location and complexity. We will now continue testing the signals of the solar park, followed by grid tests.'
Lill added that there were around 40 people on the site every day, with all parties making an effort to stay on schedule. 'We reached an agreement with our contracting partners for the necessary materials to be delivered earlier,' she explains. 'The construction company stayed ahead of schedule throughout the construction, despite the installation process of the foundation being more complex due to the specificities of gangue. Thanks to the unique solution, it is a very efficient solar park.'
Elise Johanna Lill, project manager of the Estonia solar park
A 27-metre-high structure was built for the solar park on the mine site from gangue generated during oil shale extraction. This allows for the reduction of losses due to shading, thus making electricity production more efficient.
The capacity of the Estonia solar park is around 3 megawatts, and the company is investing up to 2.7 million euros to build it. The decision to invest in the solar farm was made at the end of last year and the construction of the farm started in late April this year.
The electricity produced by the solar power plant will be used to supply Enefit Power's Estonia mine, which is expected to consume most of the electricity produced for its own use.
This is the second solar farm the company has built on an industrial site. In May 2019, the Laaskõrve solar farm was completed near Kohtla-Nõmme in Ida-Viru County.
Enefit Green is currently building five wind and three solar parks in Estonia, Lithuania, Poland and Finland, with a total capacity of 608 megawatts. The total volume of these investments is more than 780 million euros.