Enefit Green's new Šilalė II Wind Farm supplied its first electricity to the grid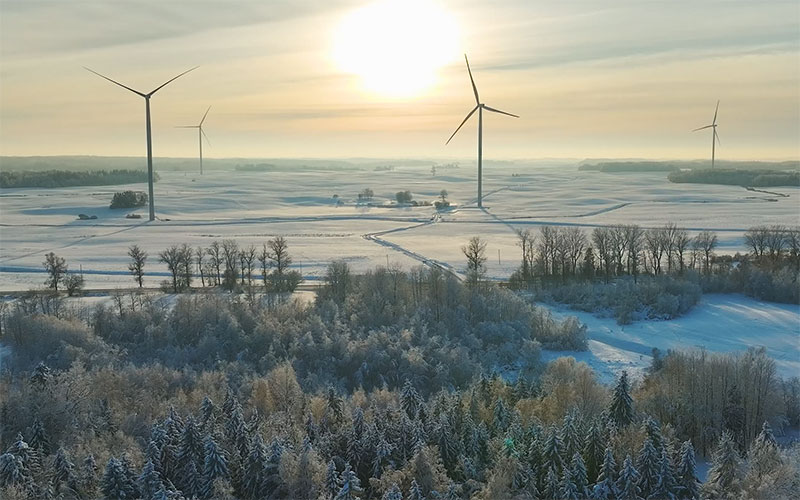 This week, Enefit Green's new Šilalė II Wind Farm delivered its first amount of electricity to the grid. Four of the farm's dozen wind turbines have been started by now, and the remaining ones will start generating electricity for the grid gradually over time.
According to Lauri Ulm, Field Manager for Wind Energy at Enefit Green, the construction of Šilalė shows how quickly it is possible to build new renewable energy production units. "We have adhered to the goal of starting production as soon as possible in order to add renewable energy to the market. We have gone from the beginning of construction to the first bit of output in a little more than a year, which is the minimum time for such a farm. We will continue with the testing of the wind farm and connecting the last wind turbines to the grid in order to get the wind farm in Šilalė fully operational," Ulm said.
The construction of Šilalė II Wind Farm started in September 2021. The foundations were completed by this summer and the erection of its 12 wind turbines began in July. The final completion of the wind farm is planned for February 2023.
The farm will have 12 General Electric wind turbines. The nominal power of one wind turbine is 3.6 MW and the diameter of its blades is 138 metres. The wind turbine generator and gearbox are located in the nacelle at a height of 131 metres. The highest point of the wind turbine above the ground – the height of the tip of the blade – will be approx. 200 metres. The total capacity of the farm will be 43 megawatts and its annual output 160 gigawatt-hours.
Šilale II Wind Farm is the first of Enefit Green's four wind farms under construction to start generating electricity. Purtse Wind Farm in Estonia will start production next, followed by the 75-megawatt Akmenė Wind Farm in Lithuania and the 72-megawatt Tolpanvaara Wind Farm in Finland starting up at the end of 2023.
More than 700 gigawatt-hours of renewable electricity will be added to the regional electricity market from these farms in total. For comparison, this makes 8% of all electricity consumption in Estonia.