Enefit Green will lay the cornerstone of Purtse wind farm in Estonia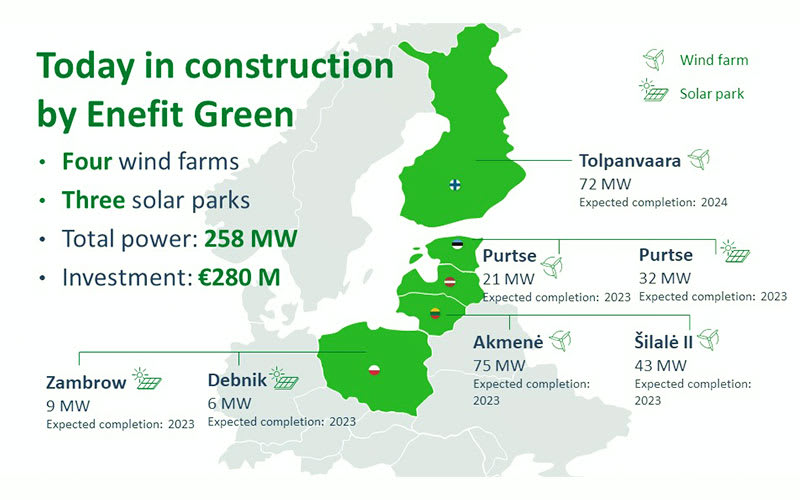 Enefit Green is building a hybrid park generating electricity from wind and solar in Lüganuse Municipality, Ida-Virumaa, to be launched next year. Such hybrid solution for large-scale electricity production is the first of its kind in Estonia. Today at noon, the cornerstone of the first wind turbine foundation in Purtse will be laid.
According to Aavo Kärmas, Chairman of the Management Board of Enefit Green, the cornerstone in Purtse marks the beginning of a new era in Estonian renewable energy. "Enefit Green will be quadrupling its renewable energy production in the coming years. We are also preparing our next investment decision to build a wind farm in Sopi, Estonia. With new wind farms, significantly more environmentally friendly and affordable electricity will be provided for Estonians in the coming years, and the country's energy security will improve," Kärmas said.
According to Kärmas, Purtse makes smart use of the fact that wind and solar energy complement each other. "Purtse will be an innovation in wind and solar energy production. A hybrid solution using both methods for large-scale electricity production is the first of its kind in Estonia. This helps to save costs related to the construction of farms and to use the limited grid resources much more efficiently. For consumers, the advantage will be price of electricity, as each new renewable power plant helps make the market price of electricity more affordable".
Hando Sutter, CEO of Eesti Energia and Chairman of the Management Board of Enefit Green, confirmed that the energy group is committed to electrification based on renewable electricity and replacing fossil fuels with carbon-free electricity. "In order to switch to carbon-free electricity production, we involve our customers who help implement the green revolution by purchasing the electricity to be produced by the wind farm under construction in advance. The customer will receive green electricity and long-term certainty in the price of electricity from us, and we as developers of renewable energy, get the certainty to implement our investments," Sutter said.
According to Marja-Liisa Veiser, Mayor of Lüganuse Municipality, due to the energy shortage, the continued growth of electricity prices and increasing inflation, there has been more and more talk about the need for renewable energy and its share in general energy consumption. "Electricity production in wind farms and solar parks is more environmentally friendly and cheaper than in a fossil-based energy industry. Currently, increasing self-sufficiency and energy independence as well as a smaller environmental footprint are equally important for Estonia. Ida-Virumaa has very favourable conditions for wind energy production and prerequisites for building solar parks. We want to be part of the green revolution and the solution to the energy crisis," Veiser said.  
The hybrid park of Purtse is located in Lüganuse Municipality between the villages of Vainu and Matka. Enefit Green is building there five new wind turbines and a solar power plant consisting of approximately 49,000 panels.
The estimated output of the hybrid park is 78 gigawatt-hours, covering the annual consumption of 24,000 average households. The wind farm will have a capacity of 21 megawatts, the solar park will have 32 megawatts.
Enefit Green acquired the development project for a wind farm in Purtse last March. The final investment decision was made this January along with the beginning of construction. Purtse Park will go from investment decision to electricity production in just 14 months.
The investment decision for the solar park was made by Enefit Green this May, and construction has now started there as well.
About Enefit Green
Enefit Green is the largest producer of wind energy in the Baltic States that aims to quadruple its production capacity to 1,900 megawatts by 2026.
The company owns a total of 22 wind farms, 38 solar power plants, four CHP plants, a pellet plant and a hydroelectric power plant in Estonia, Latvia, Lithuania and Poland.
In 2021, Enefit Green produced nearly 1,200 gigawatt-hours of electricity and 620 gigawatt-hours of thermal energy.
The company has four wind farms under construction with a total capacity of over 200 megawatts. Two of them in Lithuania, one in Finland and one in Estonia. The total volume of these investments is 250 million euros.
There are three solar parks under construction, two in Poland and one in Estonia. The capacity of these parks is approximately 45 megawatts and the total amount of investments is nearly 30 million.
Enefit Green's shares are listed on the Nasdaq Tallinn stock exchange and the company has more than 60,000 investors.