Intensive work is being done for the construction of Estonia's largest new wind farm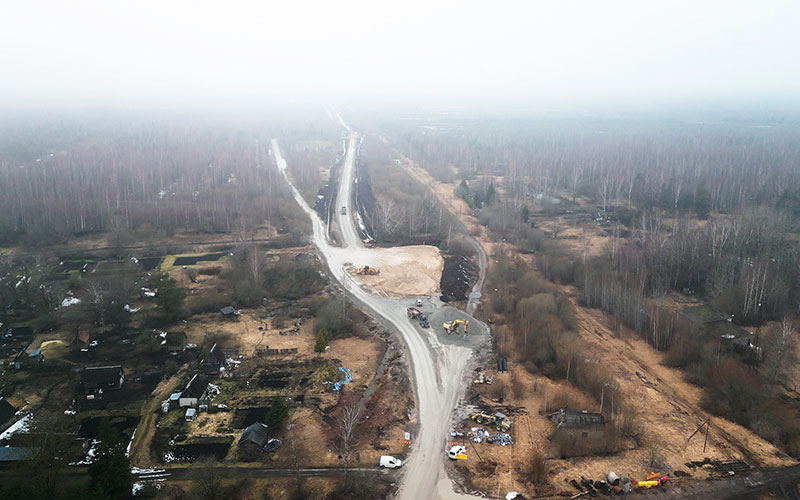 In the former Tootsi peat bog area, intensive work is being done to build roads and crane platforms for the Sopi-Tootsi wind farm. The construction does not disturb the lives of nearby residents, but there is more construction equipment traffic near the farm.
According to Janek Lillemägi, Senior Project Manager at Enefit Green, the first activities for the construction of the wind farm began right at the beginning of the year. 'Deforestation and land improvement works are in full swing now. We are working as fast as possible to be able to lay the foundations this summer and start erecting the wind turbines next year. According to the plans, the park will start producing electricity by the end of 2024,' he said.
According to Lillemägi, the largest and most modern renewable energy area in the Baltic States will be built in the Põhja-Pärnumaa county. 'The production of the Sopi-Tootsi wind farm covers 8% of Estonia's total electricity consumption and thus significantly impacts the renewable energy goals as well as the security of supply of the region. Together with the solar farm planned nearby, a unique green energy production environment will be established on the former depleted peat deposit,' he explained.
38 wind turbines will be installed in the Sopi-Tootsi wind farm and the total capacity of the park will be 255 megawatts. The wind turbines produce approximately 680 gigawatt-hours per year, which covers about 40% of Estonian household electricity needs and 8.5% of total electricity consumption.
Enefit Green will invest 305 million euros into the construction of the park. To ensure the necessary financial stability for the investment, the company has entered into long-term power purchase agreements and successfully participated in a national auction in the amount of 110 gigawatt-hours.
Enefit Green is one of the leading renewable energy producers in the Baltic Sea region. The company is listed on Nasdaq Tallinn and has nearly 60,000 investors. Enefit Green owns wind farms in Estonia and Lithuania, cogeneration plants in Estonia and Latvia, solar parks in Estonia and Poland, a pellet plant in Latvia and a hydroelectric power plant in Estonia. The company is currently building 6 wind farms and 4 solar parks in Lithuania, Estonia, Poland and Finland with a total capacity of 596 MW.
Also, see the video about the construction of the Sopi-Wind Farm in April 2023 Sopi-Tuulepargi ehitusest aprillis 2023.