Enefit Green started cooperation with the Nordic Investment Bank for building wind farms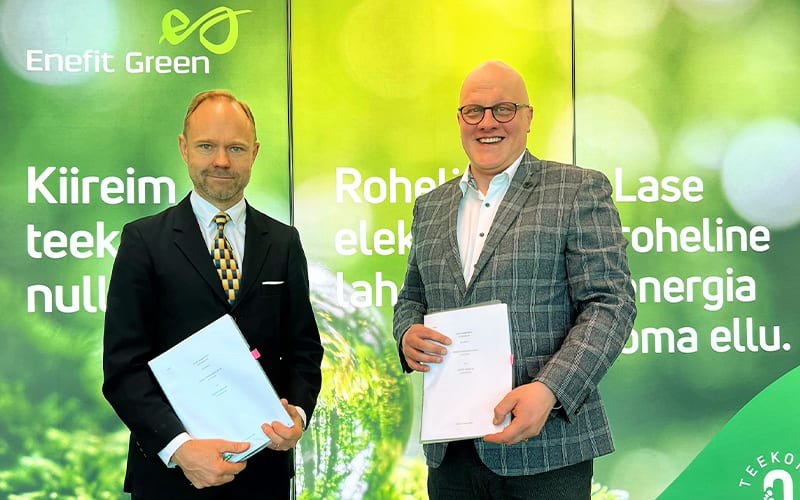 Today, on January 11th, Enefit Green signed a loan agreement with the Nordic Investment Bank (NIB) to finance the construction of wind farms in Lithuania and Estonia.
The loan agreement amounts to EUR 80 million with a 12-year term. Enefit Green will use the loan to finance the construction of the Šilale II and Akmene wind farms in Lithuania that started last year, as well as the Purtse wind farm planned in Estonia.
According to Veiko Räim, Member of the Management Board of Enefit Green, cooperation with the Nordic Investment Bank is of great significance. "Enefit Green has a goal to increase the availability of carbon-free and environmentally sustainable electricity in all its home markets from Finland to Poland. To implement our growth plan, we shall invest up to EUR 600 million in wind and solar parks in the coming years. Cooperation with a strategic financial partner confirms that the planned projects are sustainable, and availability of green energy is important for Estonia and all neighboring countries", Räim said.
Räim stated that the demand for carbon-neutral electricity was very high and increasingly more clients were interested in long term power purchase agreements for clean energy. "Wind energy is suitable for large-scale production of green electricity because of its low cost and minimal impact to the environment. Constructing wind parks is therefore one of the first choices for many countries when transitioning from fossil-based electricity generation", he said.
"NIB supports Enefit Green's efforts to reduce the dependence on fossil fuel-based power generation. NIB's funding comes complimentary to the local commercial bank and capital market financing, thereby supporting Enefit Green's strategic long-term investments in renewable generation capacity," says André Küüsvek, NIB President and CEO.
Last year, Enefit Green started the construction of the Šilale II and Akmene wind farms in Lithuania with 118 megawatts of generation capacity being added upon their completion. The construction of the farms will require an investment of ca EUR 145 million.
The construction of Enefit Green's Purtse Wind Farm is currently in the procurement phase and the final investment decision is planned for the first quarter of this year.
Enefit Green has set a goal to increase its production capacity 2.3-fold to 1,100 megawatts by 2025.
Enefit Green currently produces renewable energy in Estonia, Latvia, Lithuania, and Poland.
In four countries, the company owns a total of 22 wind farms, 38 solar power plants, 4 combined heat and power plants, a pellet plant, and a hydroelectric power plant.
The current electricity generation capacity is 456 megawatts, and the heat generation capacity is 81 megawatts.
In 2021, the company produced 1193 GWh of electricity and 618 GWh of heat.
In 2021, Enefit Green made three wind farm investment decisions - for the Šilale II, Akmene and Tolpanvaara wind farms, with a total capacity of 190 megawatts. The total volume of these investments is around 228 million euros.
Enefit Green also made one investment decision of 5,8 million euros regarding solar. An 8,8-megawatt solar park will be constructed in Zambrow Poland.
NIB is an international financial institution owned by eight member countries: Denmark, Estonia, Finland, Iceland, Latvia, Lithuania, Norway, and Sweden. The Bank finances private and public projects in and outside the member countries. NIB has the highest possible credit rating, AAA/Aaa, with the leading rating agencies Standard & Poor's and Moody's.